Equipment
The largest part of your build is the equipment that is selected on the option tabs. To simplify your life, we take care of the efficiency specs, consumer brochures and warranty information for you. If you need changes made simply export the equipment worksheet, indicate what needs to be changed and submit to the Document Portal. Your Customer Success Specialist will update the app for you.
What is the difference between Accessories and Add-Ons?
Accessories are generally the items that are enhancements to an HVAC system. Items such as : Thermostats, Air Cleaners, and Humidifiers.
Accessories may include:
| | | |
| --- | --- | --- |
| |   | |
| |   | |
| Air Purifiers and Air Filters |   | |
| |   | |
Add-Ons, also known as Additional Services, are services that you offer. Common Add-Ons are maintenance agreements, duct cleaning services, or other non-HVAC products that you carry.
| | | |
| --- | --- | --- |
| |   | |
| |   | |
| |   | |
| |   | Equipment Kits - Termination, Vent, LP, Return, Sound, Power Entry |
| |   | |
We preload the most commonly used accessory and service types for you. We recommend that contractors limit the number of accessories and additional services used in the app. Keep it simple for your sales team, pre-load your best-selling accessories and the most commonly used services. Accessories and Services that are infrequently used can be added at the kitchen table during the sales call.
You can easily add accessories and services to these sections. If you would like us to preload your accessories and services while we build your app, submit a list of accessories and services to the document portal during the app set-up.
If you would like to Add, Remove and/or Update an accessory or Add-On use the Manage Button.
To add a new item select the Green plus sign.
Use the pencil edit to change the Display Name, pricing and to inactivate or activate an item.

Financing
We all know how frequently Financing Programs change. The portal allows quick and easy adjustments to your Financing Programs. We can customize these programs for you during your build. Just submit the financing programs to the document portal.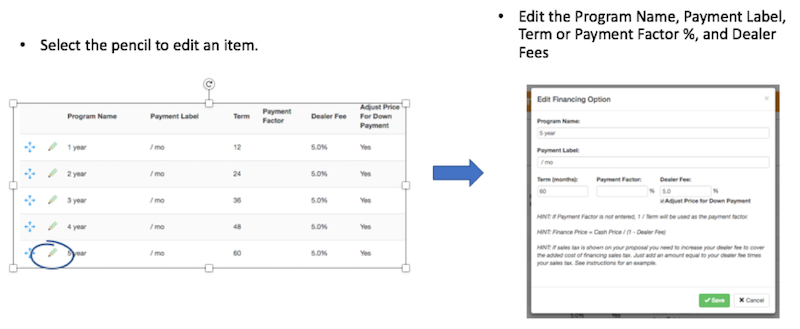 Pricing adjustments can be made as needed and activated immediately. No waiting for us to change your pricing. You're in charge! We set up basic pricing rules to get you started. Attend a pricing workshop to learn the power of the pricing tool.  Your Customer Success Specialist will help you fine-tune your pricing.
The Management Portal helps you run your business. Each section of the Portal allows you to customize the app simply and quickly.  Update your pricing during busy season, make additions and deletions to your accessory and services instantaneously. Activate and deactivate special financing programs as needed.