Jobs can be scheduled within the app for new and existing customers.
Follow these steps to schedule a job for an existing customer:
1. Select Schedule Jobs in the Navigation menu.
2. The Search Customers view will open.
Search for the existing Customer by Name or Customer #. Tap

Go

to return results.
Include Results from Cloud – switch on to display all Customers associated with your Company
On This Device list will display Customers stored on your device. Select a customer to view jobs that you have written for the customer.
All Customers will display all customers associated with your company. You will only be able to view jobs associated with your username. Jobs associated with other company users will not display.
3. The app will open to Jobs.
Tap the "+" to schedule a Job for this customer.
**If On This Device and All Customers columns are blank. Return to the Navigation Menu.
Scroll to More section.
Select Download Past Jobs.
Download Past Jobs pulls all of the proposals you have written from the database and all of the customers associated with your company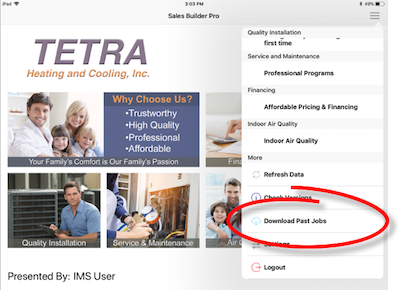 4. Complete the Add Job form:
Customer # and Name will autofill if completed in the Customer Record.

Date and Time are required fields.

Job # is an optional field.

Trade Type is typically HVAC. If other trade trades exist in your database, select from the spinner.

Notes and Items to Quote are optional fields.

Save changes.
5. Return to Navigation menu, select View Schedule to Start the Job.