Option
Ductless Tab
Design Criteria
Enter the values for your region. These values are used in determining the correction factors for selected equipment.
Outdoor Unit
1) Select Outdoor Unit
Type : Spinner displays: Air Conditioner, Heat Pump
Manufacturer: Mitsubishi Electric
Model – Spinner displays the Model Display Name. Model Display Name appears on the Customer quote
BTUs, SEER, EER and HSPF Efficiency specs are nominal values.

Registered OEM equipment parts and compressor warranty autofill. Contractor levels vary, please advise CSS of company level.

Labor warranty is specified by the contractor.

Efficiency specs and warranties can be edited while building a quote. Tap in the field to customize.

Indoor Units – auto fills Minimum and Maximum allowable units
Indoor Unit Selections
2) Tap

 

Layout

-

Layout must be completed before proceeding to indoor unit selections.
Number of Branch Boxes: n/a for single zone system
Outdoor Unit image displays
Numbered box represents the indoor unit (Tap) to display the Indoor Unit distance, height and bend input fields
Indoor Unit Selections
3) Enter design specs
Location: Select room from spinner or add your own
Distance to Outdoor Unit: 
Height Above or Below Outdoor Unit:
Number of bends:
Save
Values are used for correction factors.
Software alerts will appear when values fall outside of allowable range.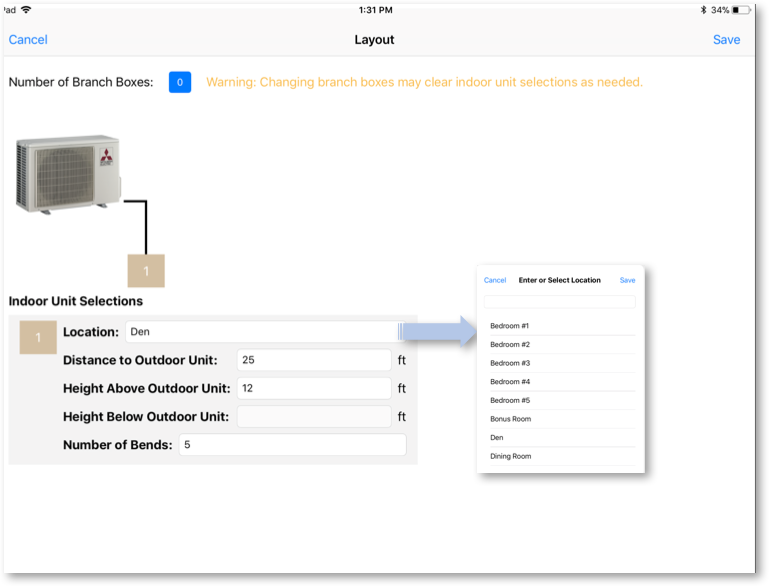 Indoor Units Selections (continued)
4) Select Indoor Unit heads
Tap "1" to open Select Indoor Unit
Tap the Wall-mount image to open the Model Number spinner
Select indoor unit
Save
Indoor Unit Selections
BTU Rated nominal values
BTU Designed after
5) Review – tap to display the Design Considerations adjustments
6) More
Notes – enter system notes for the customer
AHRI – enter AHRI number