There are 2 ways to start a job. You can schedule a job or you can use the quick proposal feature. The quickest way to start a job is to use the Quick proposal feature. When you use this feature a new job and a new customer are created.
To Start a Quick Proposal:
1. Tap the triple bar icon to open the Navigation menu. Select Quick Proposal.
2. Complete the Quick Proposal Form.
Customer Name is required, this is the name that will appear on the customer's proposal.
The app will auto fill the Customer Class.
Customer number and lead source are optional fields.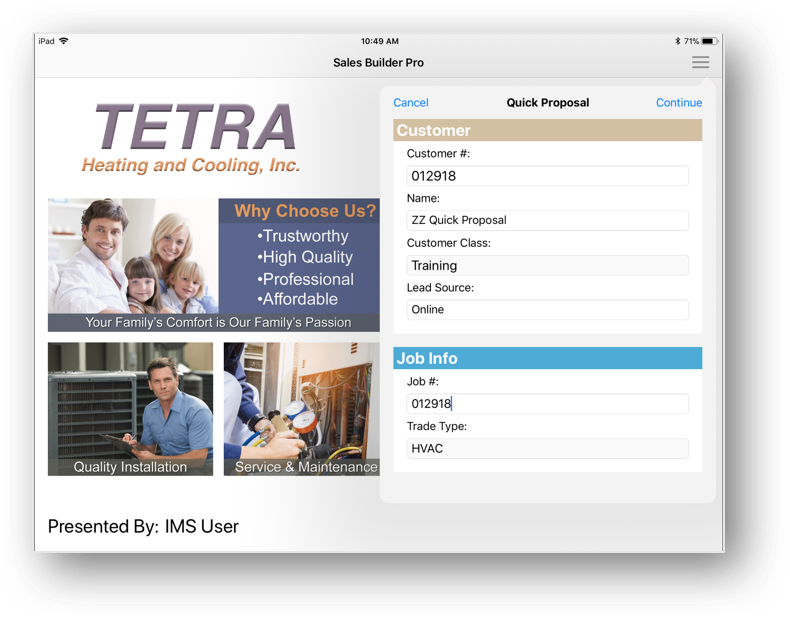 3. The Quick Proposal Feature starts the quote on the first button; the Customer Record.
4. On an iPad, move from left to right through the buttons at the bottom of the view to build the quote. On an Android tablet, swipe or tap through the tabs at the top of the view.
5. Return to the Home Page, to open the quote and/or start an additional quote for the customer. Tap the Customer Name to open the quote. 
6. After completing the quote, return to the Navigation Menu. Select View Schedule
7. Select the Customer Name , Submit the completion code and tap Completed.