Deal Manager will be view only until all users have updated to Sales Builder Pro 8.0.
Anytime after all users have upgraded their apps contact your CSS to enable editing.
Follow these steps to open Deal Manager:
In the Management Portal, Sales Management Tools section select the Search (New Way) tab.
Search for a deal by Customer Name and Time Frame or use the Advanced Search features to narrow the results.
Click on the deal to open the Deal Manager. (Fig. 1). Note that the Deal Manager has 5 tabs (Fig 2).
Figure 1. Tap on the deal to open the Deal Manager

Figure 2. Deal Manager Tabs.
Job Information includes customer info, job progress, customer and Comfort Consultant email links. (Fig. 3)

Figure 3. View job progress, customer, and Comfort Consultant email links
Use the notes section to enter an Internal Office Reference Number and add color-coded notes. Any changes made to a deal will automatically be sent to the Sales Rep. Deselect Notify Sales Rep check box when Sales Rep notification is not needed. (Fig. 4)
Figure 4. Edit Office #, Add Notes, Notify Sales
All quotes associated with the sales call are displayed in this section. (Fig. 5).
Office users can change the job status, select a proposal option and accept a proposal. Sales reps will be notified of any changes to job status with a back-office email.
| | |
| --- | --- |
| | Download Proposal |
| | Expand to view Proposal Details |
| | "Show Details" to display Proposal items, delete/hide a proposal, and link to Pricing Analysis |
| | Delete the proposal. Deleted proposals and notes can be retrieved by checking the show deleted notes & proposals box. (Fig. 5) |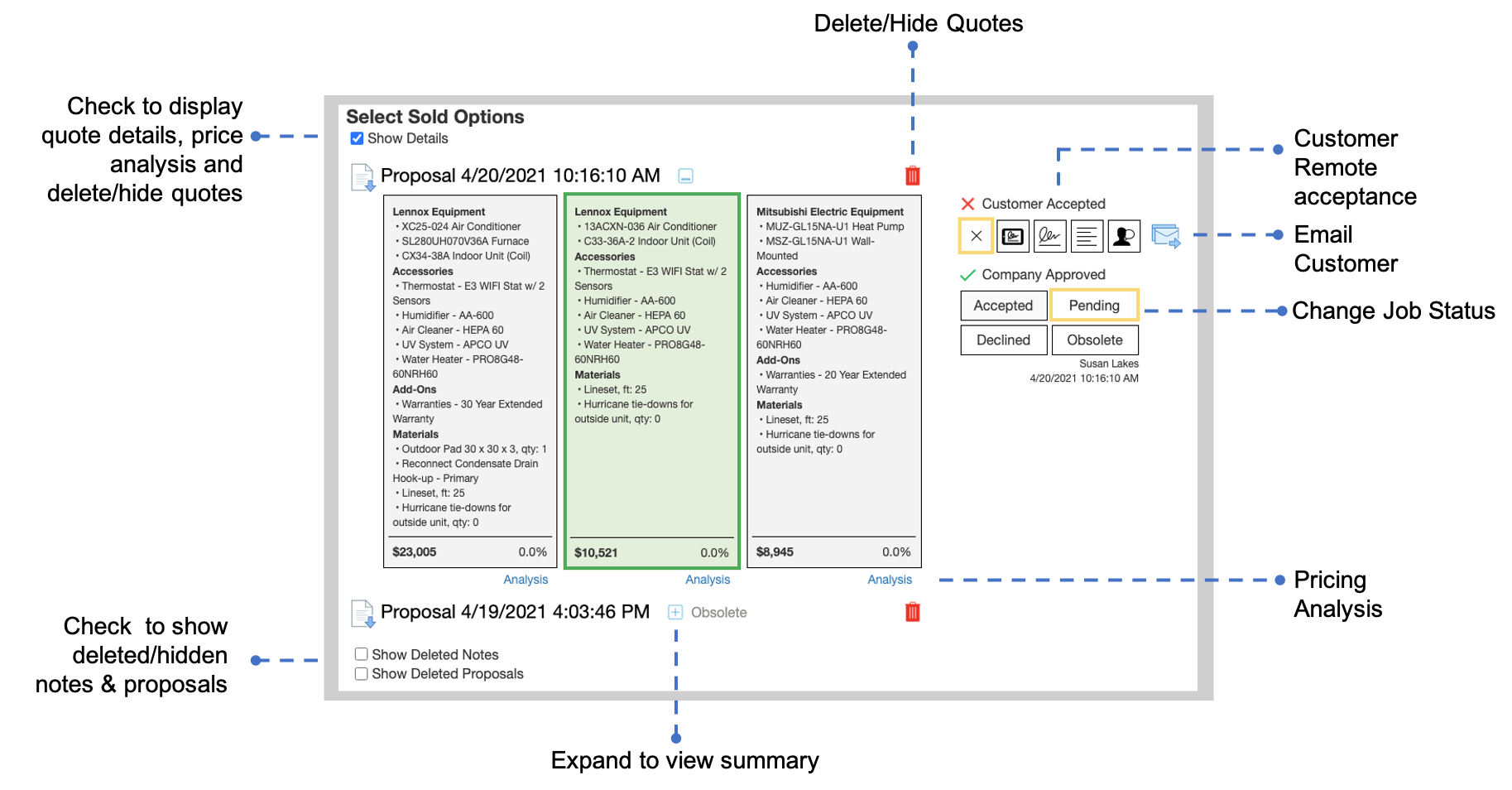 Figure 5. Select Sold Options